Winter salad with citrus fruits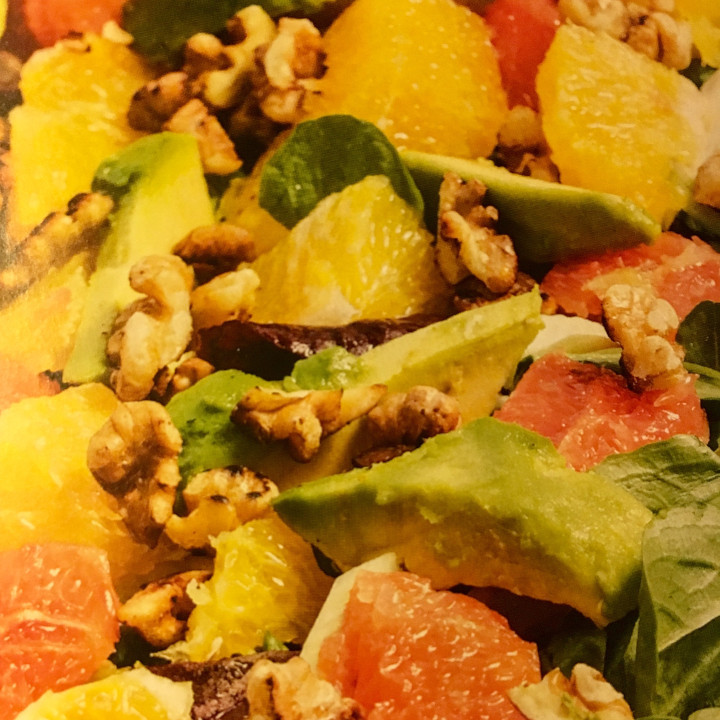 This is a good salad that can be eaten as is, or a perfect accompaniment to fish or meat.
4 servings
2 oranges
2 grapefruits
1-2 endives
1-2 avocados
2 tablespoons walnuts, coarsely chopped
200 grams of leaf spinach
1/2 dl olive oil
2 tablespoons juice from citrus fruits
1/2 teaspoon salt
1 teaspoon pepper
To do this:
Peel and remove all skins and all the white from the oranges and grapefruit.
Cut the fruit in the boats. Take care of the juice.
Cut the endives into thin slices and the avocados into boats.
Toast the walnuts in a dry frying pan.
Spread the spinach on a plate. Decorate with the endive slices, and distribute the avocados around the dish.
Then add citrus fruits and sprinkle with toasted, coarsely chopped walnuts.
Whisk together the juice from the fruits, olive oil, salt and pepper. Feel free to add a little liquid fiber syrup
Pour the dressing over the salad just before serving. Feel free to grind a little coarsely ground pepper over it.