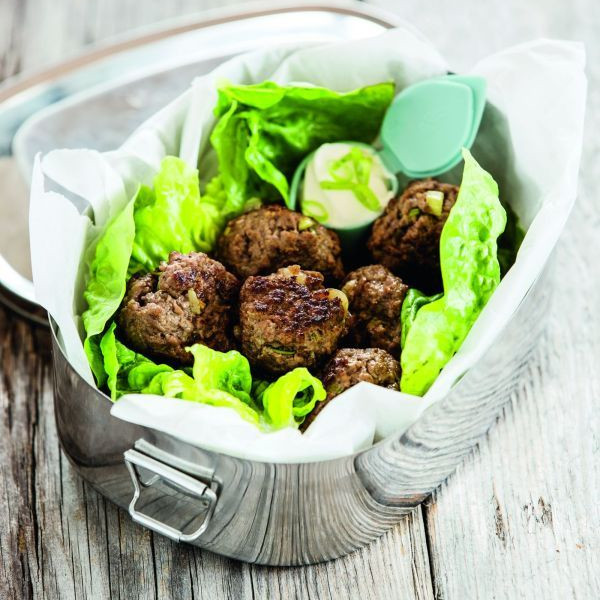 4 Servings 20 Minutes + Cooking

Nutritional information per serving:Fat: 22,0 g, carbohydrate: 3,6 g, fiber: about 1.7 g, protein: 25,2 g
500 g chicken, lame, or regular ground beef
2 cloves garlic, finely chopped
4 spring onions, finely chopped
2 teaspoons fish sauce
1 teaspoon gluten-free soy sauce
½ tsp sesame oil
¼ tsp ground ginger
¼ tsp salt
¼ teaspoon pepper
1 tablespoon chopped fresh parsley or 1 teaspoon dried
Accessories
8–10 leaves from courgette, washed and dried
sour cream
cucumber, sliced
SO DO YOU
Set the oven at 125 degrees.
Mix the minced meat with all the ingredients: garlic, spring onion (but keep some chopped spring onion for the sauce), fish sauce, soy sauce, sesame oil, ginger, salt, pepper and parsley.
Feel free to let the dough stand for 15 minutes, so that the flavor settles.
Take a little olive oil in their hands, and form fit large meatballs. Brown them on medium heat in a frying pan with butter.
Place the meatballs in an ovenproof dish and bake in the middle of the oven for approx. 5 minutes until they are cooked through.
Place two leaves of lettuce in the lunch box and 3 meatballs on each leaf. Pour some sour cream with chopped spring onions over it. Place some cucumber slices in a separate compartment in the box, and bring extra sour cream sauce in a small box next to it.