Duck breast with cranberry sauce, red cabbage and roasted potatoes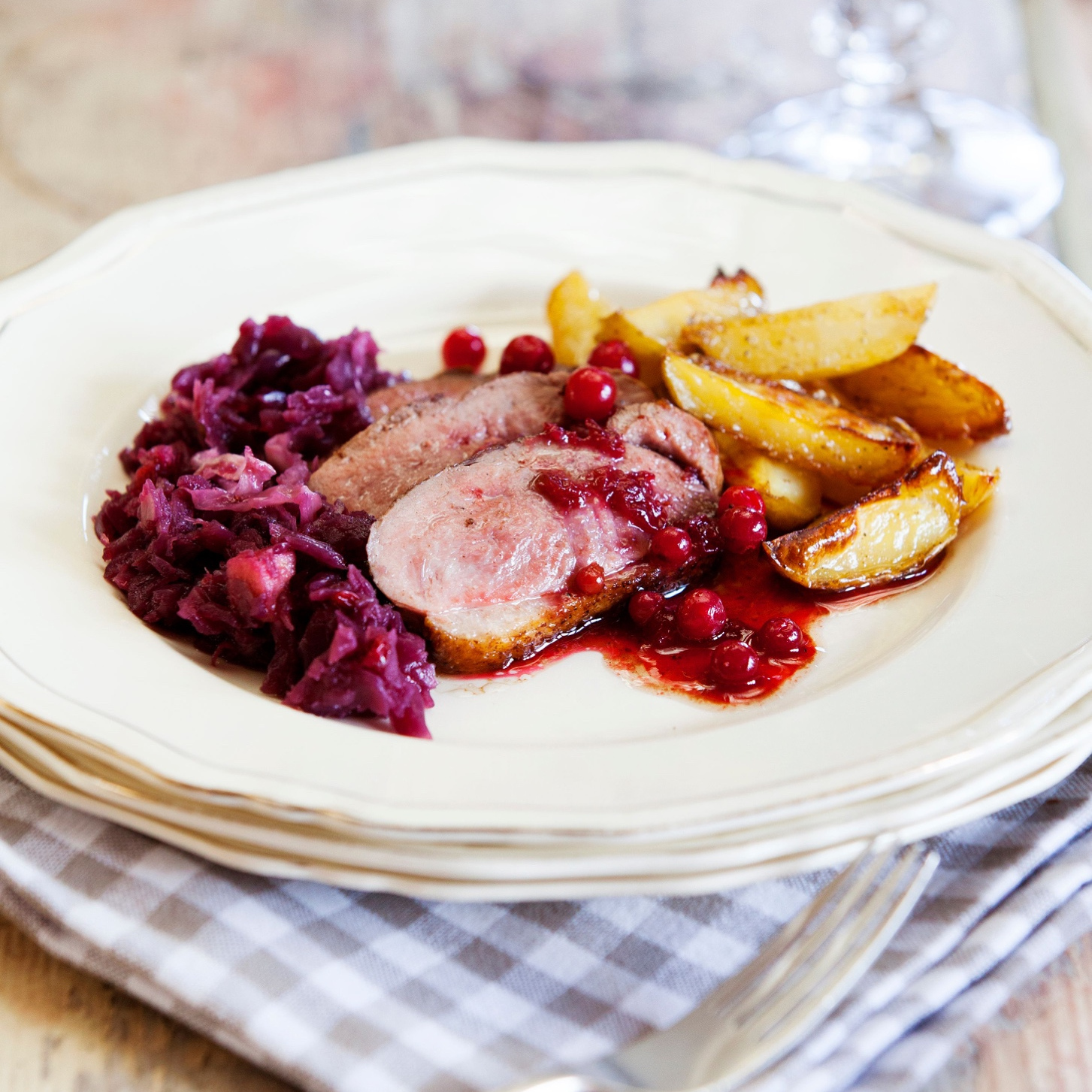 4 servings
The duck can be found in the freezer in most stores. This is a lovely meat, and very easy to prepare.
Duck breast with cranberry sauce:
200 g unsweetened cranberries
3 tablespoons Sukrin
1-2 tablespoons butter for frying
2-3 duck – approx. 500 g
1 tsp flake salt
1 teaspoon freshly ground black pepper
1 dl port (can be omitted)
To do this:
Mix cranberries and Sukrin in a small saucepan and let it get a rehashing. Let it simmer for 2-3 minutes.
Warm the butter in a frying pan.
Spice the duck breast with salt and pepper and fry the duck breast with the skin side down for 4 minutes. Flip the slices and cook further for 2-3 minutes. Press the pieces down against your forehead. Take them up with slotted spoon, place them on a warm platter and keep them warm.
Pour out most of the fat in the pan, take care of the fat, turn up the heat and bring to the boil out of the pan with the port wine. Stir in the cranberries and pour the sauce over the duck carved in serving pieces. If you do not want to have in the port wine in the sauce, use only the cranberries. Have in a little water and/or fat in the sauce instead.
The rest of the the fat served by the side of, for those who want more fat.
Red cabbage:
750 g finely chopped red cabbage
1 apple in the boats
2 tablespoons butter for frying
2 ½ dl unsweetened berry juice or e.g. black currant, cranberries or household juice
2 teaspoons brown Sukrin
2 teaspoons apple cider vinegar
1 tsp flake salt
To do this:
Sauté red cabbage and apple in the butter in a saucepan until soft. Add berry juice. Bring to a boil and let it all soak for about. 45 minutes. Stir well in between.
Mix into brown Sukrin and vinegar, season to taste with salt.
Fried potatoes:
Boil the potatoes finished the day before to servers duck.
Pour off the water and leave the boiler with the potatoes stand on the countertop overnight. Cover the potatoes with a clean kitchen towel.
When the court shall be created, added boiled potatoes in a heat-proof platter with olive oil, salt and pepper.
Bake the potatoes in the oven at 200 °C for approx. 25 minutes. Stir in the potatoes a couple of times during cooking.
The Server of the spirit with red cabbage, roasted potatoes and duck fat.